PRESS RELEASES
Explore news and press releases below.
Business News
04/22/2020
CEO Kelcy Warren Interviews with Neil Cavuto, 'Coast-to-Coast' on Fox Business
03/04/2020
"CEO Spotlight" KRLD Radio Interview with Kelcy Warren, Chairman & CEO, Energy Transfer
03/02/2020
The Wall Street Transcript Interview With Kelcy Warren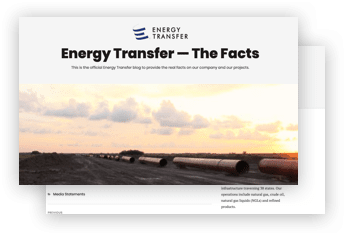 ENERGY TRANSFER BLOG
Check out the official Energy Transfer blog to see real facts on our company and our projects.
READ NOW
FACT SHEETS AND BROCHURES
Read and download these helpful fact sheets that detail our projects, integrity programs, construction methods and more.
VIDEO GALLERY
Visit our Video Gallery page to watch all of our video resources.